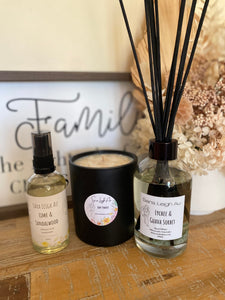 300gram Candle - Baby Powder ❤️
Smells absolutely amazing This soft and woody blend makes you feel on top of the clouds. Baby powder does tend to colour wax blue which is completely normal due to the nature of the raw materials.

Room Spray- Lime & Sandalwood ❤️ 
A rich sandalwood blend with hints of patchouli combined with fresh zesty lime peel sweet citrus orange and spiced amber.
Reed Diffuser 200ml - Lychee & Guava Sorbet ❤️
Sweet vibrant and fresh with lychee fruit and mixed berries balanced with a fruit burst of guava sorbet lime peel and vanilla.