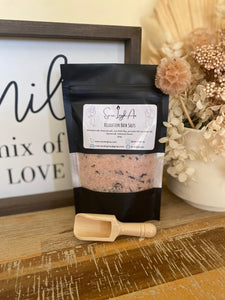 Our signature blend of avocado oil and lavender essential oil infused Epsom salt (this helps to relax tension and aching muscles), pure Himalayan pink salt (to detoxify the body and mind) and natural dead sea mineral salt (to soothe your body while softening and repairing your skin). we also added Australian pink clay which helps to invigorates the mind and body. bath salts have also  been infused with dried hibiscus to further invigorate the senses and soften skin.
Add 1 to 2 scoops to a warm (not hot) bath and soak for 15 min.
The benefits? Relieve stress, soothes skin, aids in muscle recovery, flushes out toxins, helps to alleviate dry skin conditions.

 Comes with a wooden scoop