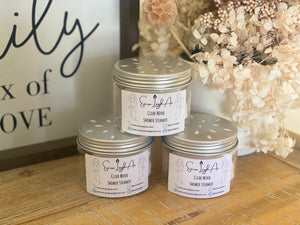 The easiest way to add a little luxury to your shower with essential oils! Simply place 1 disk to your shower stall or floor it will release amazing scent into the air.
Clear and fresh citrus scent of lemongrass, lemon and eucalyptus and lime 
Handmade in Wee Waa , Australia 
Each container has 3 shower steamer

Direction:
Use 1 disk of shower steamers to bottom of shower away from direct water stream.

Ingredients :
Bicarbonate of soda, Citric acid, Menthol crystals, soy bean oil, lemon essential oil , lemongrass essential oil, lime essential oil, Eucalyptus essential oil